The Australian Women's cricket team have found themselves on the right side of the Ashes series this year having retained them for the fifth time in a row. Even if the Australians lose the third ODI, the Ashes will remain with them as a result of a drawn series. The fight, however, continues as the Aussies wouldn't want to head back home without the nail in the coffin, a victory.
"It's Not A Relief," Mentioned Acting Skipper Alyssa Healy.
"There is still one game to go, and we'll be putting our best foot forward. But to know the Ashes are coming back with us is really exciting."
A Sizzling End To The Second ODI With The Guests Winning With A Mere Three Runs:
An uneasy start for Australia having lost opener, Phoebe Litchfield early on in the second over of the day for just four. Skipper Alyssa Healy followed in pursuit, having been caught out for thirteen runs following a disappointed, "Oh my God," expressed by her and picked up by the stump mic. The strong partnership of Ellyse Perry and Beth Mooney persisted until Mooney was caught out and sent back off a Sophie Ecclestone delivery with ill-use of the sweep shot. Shortly after, Tahlia Mcgrath nicked the ball ever so slightly due to the magician-like fingers of Sarah Glenn and was caught behind the stumps, having to walk back for five. Ellyse Perry throughout all this looked in mighty touch, adding a thirtieth half-century to her name in ODIs, along with maintaining a strong partnership with first Ashleigh Gardner, and then an even more magnificent one with Annabel Sutherland. The 81-run partnership of the two, unfortunately, ended with an unlucky but incredible 91 for Perry, and a fifty for Sutherland. Not to fret though, as Georgia Wareham entered the scene and struck with strength, adding 37 runs to the final score with Jess Jonassen sticking with her throughout. The last over proved costly for England, having conceded 26 runs, all of those vital for the Australians.
Now That's A Trooper!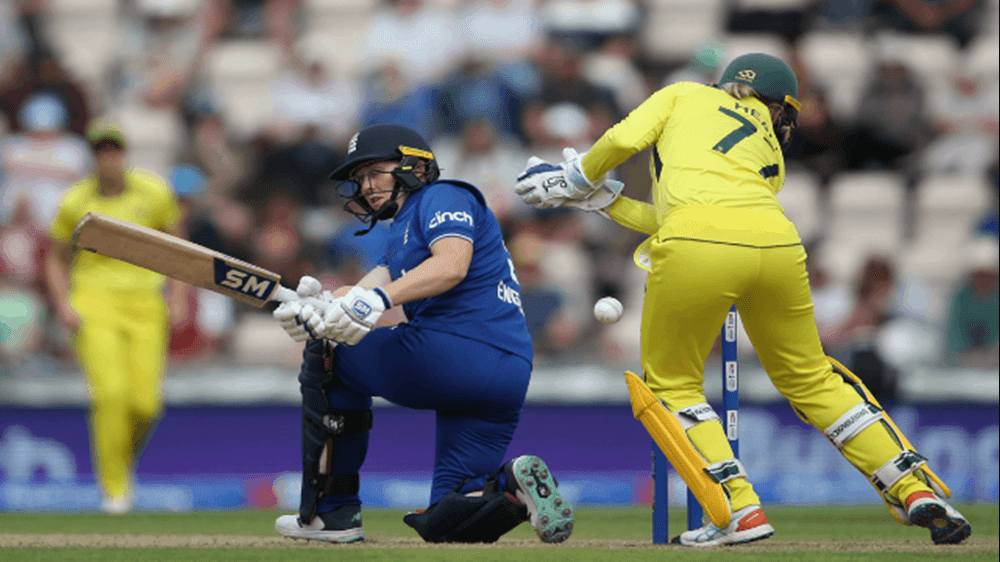 A target of 283 runs was set for the English batters, with aggressive boundaries galore for Tammy Beaumont in the first few overs of the powerplay. A half-century was in store for her, however, the effective partnership between her and Sophia Dunkley was shattered by a bit of a silly attempt at a paddle shot by Dunkley, being bowled for thirteen. The spinners in yellow would continue to prove immensely important as Alana King struck, snatching the crucial wicket of Heather Knight for just twelve. Coincidentally, out LBW thanks to yet again, an unnecessary attempt at the paddle shot. Shortly after, Alana King displayed her magic yet again, having the ball thrashing onto the top of off stump, deceiving and clean bowling Tammy Beaumont for a commendable 60. Another wicket tumbled from there, all accreditation to Alana King having Alice Capsey caught out for 2. The women in blue falling victim to spinners continued as Dani Wyatt was caught out to Ashleigh Gardner after attempting to slog sweep the ball with vigor, and ultimately remaining unsuccessful. A brilliant partnership was curated between Natalie Sciver-Brunt and Amy Jones, making 57 runs together out in the middle until Jones faced Ashleigh Gardner, having her caught out for 37. Ashleigh Gardner remained in the picture, getting Sophie Ecclestone out LBW for simply one run whilst attempting the sweep shot. Natalie Sciver-Brunt, amidst all this, remained level-headed, playing smart cricket and eventually reaching a well-deserved century after being dropped at 97 by Georgia Wareham.
Not any more monumental wickets on Australia's behalf, more the lack of runs conceded in the death overs with accurate bowling and fielding put to use to constrict any leaky runs here and there. The Australians had everything to lose if they were found complacent, and one thing known about this team is their wits and hard work. The guest team ended up successful, winning a suspenseful game many watched on the edges of their seats, with three runs.
An Important ODI At Southampton For The Australian Team To Win!
Not much of a surprise when leggie Alana King was named Player of the Match after having witnessed her tremendous bowling figures of 3/44. Honorable mentions certainly include Ellyse Perry's 91-run innings, Annabel Sutherland's half-century, and Georgia Wareham's T20-reminiscent innings of 37 off just 14 deliveries.
Perhaps too close of a margin for the team used to winning left, right, and center, but they're undoubtedly alright to have levelled this screamer of a series on the retaining end. Allowing themselves a triumph would aid them in playing fearlessly, without the turmoil of worrying about retaining the ashes looming over their heads. The aggressive cricket to be played forward will undoubtedly play a hand in giving them the edge to win the series, while England will be under pressure with the hopes of drawing it. That is exactly what is needed for Australia, a team of sole-winners. Playing bravely and brazenly, while exerting more pressure on the already pressurized England is the perfect way to go, and not an uncommon tactic when it comes to a team familiarized with success.
A WIN- WIN Strategy!
Much criticism arose towards the skipper of this series, otherwise known as Vice-Captain Alyssa Healy considering the absence of Meg Lanning. That being said, retaining the Ashes is more than enough of an achievement to prove her a lucrative captain. Without her leadership skills, Australia would never have been able to retain the Women's Ashes. The efforts of Alyssa Healy as captain are those to be recognized and celebrated, leading her team to a fifth retaining of the Ashes, a task not everyone is capable of fruitfully carrying out.
Take a look at our Sports News for more! Click here!