Amidst a sea of mass-produced merchandise, Etsy stands as a shining symbol of creativity and artistry. Founded in 2005, this e-commerce platform has single-handedly revolutionized the shopping experience for those seeking one-of-a-kind, handmade treasures. Etsy's virtual marketplace not only serves as a thriving hub for artisans and creatives across the globe but has also fostered a close-knit community that cherishes the essence of craftsmanship, individuality, and genuine connections. In the following pages, we embark on an enthralling exploration of Etsy's journey, unraveling how it has emerged as a cultural powerhouse and an unrivaled marketplace, dedicated to all things innovative and extraordinary.
Crafting the Etsy Story: Origins and Growth
In the heart of a modest Brooklyn apartment, the tale of Etsy unfolded, driven by the vision of its founders: Rob Kalin, Chris Maguire, and Haim Schoppik. Their shared dream was to construct a thriving marketplace that celebrated the unique skills and artistry of individual artisans and makers. Fueled by the desire to elevate craftsmanship in consumer culture, they laid the groundwork for what would soon blossom into an unparalleled creative powerhouse. As Etsy made its debut, the world witnessed the dawn of a trans formative platform that seamlessly connected artisans with their prospective customers, forever reshaping the landscape of e-commerce.

Artisans Unite: The Etsy Community
At the heart of Etsy's triumph lies its vibrant community of artisans and sellers, who form the bedrock of its success. Embracing the powerful ethos of "Shop Small," Etsy has fostered a global network of creatives specializing in an array of crafts, ranging from exquisite handmade jewelry and clothing to personalized home decor and cherished vintage finds. The platform's intuitive and user-friendly interface allows artisans to establish their own digital storefronts, where they can weave the narratives behind their creations, forging authentic connections with customers who yearn for unique pieces that embody the devotion and artistry infused into every creation. Through this enriching exchange, Etsy has become a bastion of artistic expression, redefining the way people shop and fostering a profound appreciation for craftsmanship and the human touch in a mass-produced world.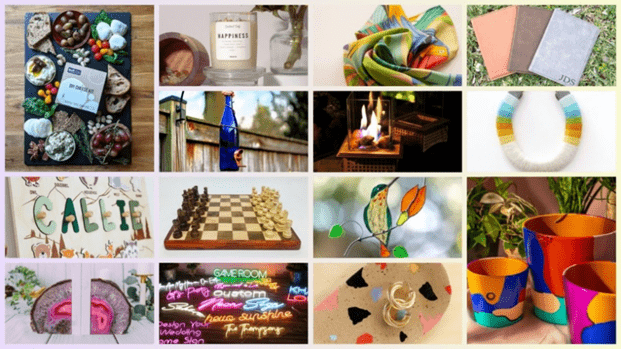 Etsy: Where Artistry Meets Conscious Consumerism
Etsy's ascent perfectly aligned with a cultural transformation that prioritized authenticity and craftsmanship above mass-produced goods. In a world where consumers yearned to escape the monotony of cookie-cutter shopping experiences, Etsy emerged as a breath of fresh air, offering a vibrant alternative that celebrated the artistry and passion invested in each handcrafted creation. Beyond merely being a marketplace, Etsy cultivated a deeper appreciation for the human touch and the stories behind the products, forging connections between artisans and buyers that transcended traditional transactions. Moreover, Etsy's commitment to eco-friendly and sustainable practices struck a chord with a burgeoning demographic of conscientious consumers. As environmental consciousness grew, the platform's emphasis on environmentally friendly and ethically sourced products distinguished it as a beacon of mindful shopping and ethical consumerism. Etsy became more than just a shopping destination; it became a symbol of a conscious lifestyle that values the preservation of nature and the celebration of human ingenuity. As a result, the platform garnered a devoted following of individuals seeking to make a positive impact through their consumer choices and support artisans who embodied the principles of sustainability and social responsibility.
Empowering Artisans Worldwide: The Global Impact Of Etsy
Etsy's influence knows no bounds, transcending the confines of its Brooklyn headquarters. Empowered by its borderless marketplace, artisans hailing from every nook and cranny of the world find a platform to showcase their craft to a global audience. From the serene hamlets of rural India to the vibrant streets of bustling European cities, these skilled creators can now seamlessly share their passion-fueled creations with the world, all while sustaining their livelihoods doing what they love. Beyond its transformative impact on individual sellers, this far-reaching global reach paints a vivid tapestry of cultural diversity, spotlighting an array of art forms and ancient traditions that breathe new life into the creative landscape.
Etsy's Challenges and Evolution: Maintaining the Handmade Ethos
As Etsy embarked on its evolutionary journey and ventured into broader horizons, it encountered the delicate task of upholding its dedication to handmade and vintage treasures while accommodating an expanding spectrum of offerings. The introduction of mass-produced items into the mix sparked debates and apprehensions within the artisan community. Nevertheless, Etsy remained resolute in its quest for equilibrium, enacting stringent guidelines and policies to uphold product authenticity and excellence, all the while fostering an environment conducive to ingenuity and advancement. Rooted in a resolute commitment to sustainability and ethical trade practices, the platform confronted these hurdles head-on, bolstering its standing as a fortress of imaginative expression.
Etsy and Social Impact: Empowering Female Entrepreneurs
Etsy has distinctively emerged as a catalyst for women's empowerment and a steadfast supporter of women-led enterprises. In a landscape where a substantial majority of sellers are women, Etsy has pioneered an environment that is both all-encompassing and invigorating, enabling female artisans to ardently pursue their creative aspirations and cultivate prosperous ventures. By orchestrating comprehensive training modules, mentorship endeavors, and avenues for networking, Etsy has ingeniously fostered an ecosystem that not only amplifies women's economic agency but also exemplifies a resolute commitment to embracing multifaceted perspectives and fostering inclusivity.

Etsy in the Age of Digital Commerce: Innovations and Adaptations
Remaining at the vanguard of the ever-changing e-commerce realm, Etsy has adeptly embraced technological progress and evolving consumer preferences. By incorporating user-friendly mobile apps and refining search functionalities, Etsy ensures a seamless and personalized shopping experience, successfully bridging the gap between digital commerce and customer satisfaction. Furthermore, the platform's integration with social media channels has proved instrumental in nurturing direct engagement between sellers and their patrons, fostering a tight-knit community that fosters loyalty and mutual support. As the digital landscape continues to evolve, Etsy's commitment to innovation and customer-centricity keeps it resilient and relevant in the dynamic world of online retail.
Conclusion:
The Everlasting Legacy of EtsyEtsy's remarkable journey from a small Brooklyn apartment to a thriving global marketplace is a testament to the power of creativity, authenticity, and community. Anchored in its unwavering commitment to celebrating craftsmanship and empowering artisans, Etsy has emerged as a trailblazer that redefines commerce and consumer culture. As the world increasingly embraces the value of individuality and seeks meaningful connections with the stories behind the products they buy, Etsy's influence will endure for generations to come. So, when you embark on your quest for something truly unique and special, let "Shop Etsy" be your guiding mantra –a reminder that every purchase is an ode to creativity and a tribute to the art of making.