The Kung Fu Panda Franchise:
The Kung Fu Panda franchise has been a part of millions of childhoods for ages and ages, placing a smile on everyone's face no matter how old or how young they may be. With three movies already released in 2008, 2011, and 2016 respectively, we must keep a close eye on the news regarding new films being released as it is rumoured that the beloved Kung Fu Panda franchise will be releasing their fourth instalment of their story line. With marvellous morals, lovable characters, engaging story lines, Kung Fu Panda 4 is destined to be another box office hit. Who will the Kung Fu Panda 4 villain be? What will the story line consist of? Who is the perilous but passionate and positive Po going to go head-to-head with this time? All valid questions that will surely be answered in no time.
Who Is A Part Of The Film? Kung Fu Panda 4 Villain, Heroes, Etc.
The widely popular and adored cast of the previous three Kung Fu Panda films are set to return to make yet another thrilling movie for audiences all around the world. Jack Black is correctly assumed to portray the peppy Po yet again, no surprises considering the fan-favourite he is and how perfect he is for the role of Po. The uber-talented Angelina Jolie is also supposed to be making a return, playing the tenacious Tigress. Although rumored to be a Kung Fu Panda 4 Villain previously, Jolie's character has found herself a kind of softness towards Po and his outgoing persona. Seth Rogen is also said to return as Mantis, Jackie Chan as Monkey, Lucy Liu as Viper, David Cross as Crane, and Dustin Hoffman as wise Master Shifu.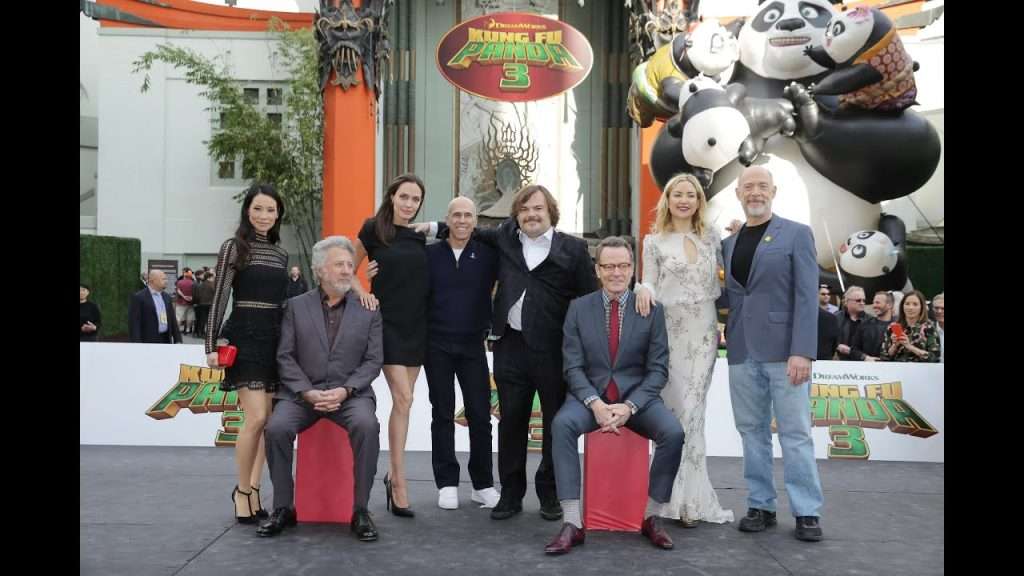 Crazy Rich Asians star Awkwafina is also rumoured to be a part of this film, but her role is currently unknown. Possibly a Kung Fu Panda 4 villain? One thing's for sure, we're all waiting impatiently on the edges of our seats to know. While gaining an intimate glimpse into the curation of the film is something we're all dying for, what we do know is that according to some rumours, her character is set to be a Kung Fu Panda 4 villain by the name of 'Chameleon'. An important piece of information to add onto that is that American film director, writer, producer, actor and animator Mike Mitchell is to direct the fourth edition of the Dream works Animation hit franchise, as announced at Cinema Con in April of this year.
The Overall Success of the Kung Fu Panda Franchise:
The previous three Kung Fu Panda movies have been an absolute hit, amassing a total of $1.8 billion in the box office all together. Not only are the movies incredibly famous in the U.S., but in China as well as the country took immense appreciation to the captivating cultural representation seen in the film and the immersive story line even more. Not just a hit at the box office, but also a movie series to get noticed by and nominated for various awards. The franchise has been nominated for both Golden Globes and Academy Awards, and fans are hoping that this fourth movie will be the one to officially win them prestigious awards and accolades such as these. Kung Fu Panda 4 will undoubtedly be a massive favourite as audiences have been waiting since 2016 for its release. Till then, we're left speculating what the story line may be about, who the Kung Fu Panda 4 villain may be, what the plot twists may be, etc.
Kung Fu Panda 4 Villain, Plotline, Release Date, Etc: What Could Kung Fu Panda 4 Possibly Be About?
Since the release of the third Kung Fu Panda film in 2016, there has been much conjecture regarding what Kung Fu Panda 4 may be about. Thirsty movie buffs were finally given a small glimpse during Universal's Panel at the 2022 CinemaCon, and it most certainly did not disappoint. Kung Fu Panda 4 will allegedly consist of Po, played by Jack Black, on a mighty adventure beyond the 'Valley of Peace' which is where his home has been ever since he was a little cub. His venture will apparently be leading him to the city itself, and during this voyage, Po is to face various trials and tribulations through the means of a purely evil sorceress by the name of 'Chameleon', who is the Kung Fu Panda 4 villain alleged to be played by Shang-Chi and the Legend of the Ten Rings actor, Awkwafina.
The sinister Chameleon has the ability to summon the ghosts of several opponents from Dragon Warrior's history of kung fu combat. While the Kung Fu Panda 4 villain seems to be a gruelling challenge Po may face during his journey, he is rumoured to face the defiance of his own mind. Po is claimed to battle the idea of mortality and the fact that must come to terms with the fact that he cannot possibly be the distinguished Dragon Warrior forever. This realisation apparently leads him to undertake a forage to discover another illustrious warrior that can meet Po's standards and act as his replacement when the inevitability of Po's mortality comes into play. Po will presumably experience a variety of emotions while on this quest, including anxiety and hopelessness because he is aware of how complicated a procedure of succession could possibly be. This action and suspense packed movie is reported to be released on the 8th of March, 2024, however, this date may change considering the current SAG-AFTRA and WGA Hollywood strikes.
Why Kung Fu Panda 4 Will Be A Must-Watch:
Discover a beautiful fusion of heart, humour, and action only found in the Kung Fu Panda franchise in Kung Fu Panda 4. Anyone would recommend viewers to join Po as he sets off on a motivating journey of self-discovery and development in each of his movies, and the fourth movie will be no different. The previous three movies have had exquisite animation, a heartwarming tale of an underdog, and inspirational life lessons on the value of persistence, accepting diversity, and self-belief. "Kung Fu Panda" promises a promising and enjoyable cinematic adventure ideal for all ages with its endearing characters, exciting martial arts routines, and universal themes. In this mesmerizing animated masterpiece, learn the beauty of friendship, tenacity, and finding inner strength. Elements like these along with a new and unknown Kung Fu Panda 4 villain will add to an extremely compelling watch. All these factors will indefinitely be found in the fourth movie as well, no questions asked. Dreamworks never disappoints when it comes to Po and his exciting adventures.
Stay tuned for more Entertainment news in Hollywood!Click here