There is no talk of anything else, and that is of Britney Spears's divorce from Sam Asghari, which has caught us totally by surprise. The couple has separated after 14 months of marriage and seven years together, and from what we see, the ins and outs have been resilient. Alarms, aggression, and a set of things have made the model ask the singer for a divorce-who now finds herself more alone than ever.
Britney Spears Divorce: What's Not Gullible?
As we know, Britney Spears is an icon. She is an American singer and actress who shone to fame in the late 1990s with her debut hit "Baby One More Time." The 'Toxic' singer, 41, is said to have split from Sam, 29, with the split coming after the actor confronted her over rumours that she had been unfaithful. That and for the alleged attacks that Britney would have carried out while Sam slept, even leaving him a black eye. Phew!
But there is more on unwavering Britney Spears' divorce and, hence the concern now of her followers for the health of the singer.
The account that publishes gossip and rumours of celebrities is clear: "In case it was not already obvious, the wind about the Britney Spears divorce is total bullshit. Nobody cheated, and it's all about reallocating assets to prepare for his lifetime care: keeping Sam on the payroll is pointless since Britney can't take it anymore because he's stopped pretending to give a shit."
They seem to be trying to explain that Britney is adjusting her finances to receive medical treatment. Does the singer still need psychological help?
Britney Spears divorce: Spears 'in a good mood despite split from Sam Asghari
It is said and commented that Britney Spears feels "positive" and "focused on the future" after her separation from her husband, Sam Asghari. Spears is reportedly "in a good mood," we shouldn't be worrying about her health, even though everyone else is. It's never easy to get over, but she stays positive and focused on the future. Additionally, Britney hopes to resurrect her music career and focuses on the upcoming release of her tell-all memoir 'The Woman in Me' in October 2023.
The artist appears in a video in which she is seen dancing in the living room of her house, something that has already become a hallmark of her social networks. Along with the images, Spears has written an extensive text in which she pronounces her marital breakdown for the first time.
"As everyone knows, Hesam and I are no longer together," she begins by saying before confessing that "spending six years with someone is a long time, so I'm still a bit in shock." Britney does not want to go into details or explain what happened in her marriage. "Honestly, it's nobody's business," she says forcefully. However, she becomes vulnerable and admits that she "honestly couldn't take the pain anymore."
Britney Spears divorce: Sam Asghari Confirms Very 'Toxic' Separation
Sam has broken his silence on the split by revealing that the couple decided to end their "journey together." We will uphold our love and respect for each other, and I always wish her the best.
Britney has not commented publicly on the split, but she has taken to Instagram to announce that she is buying a horse. Nice change, of course. It is rumoured that Britney Spears and Sam Asghari could divorce or fight after a year of marriage.
Britney Spears And Sam Asghari Got Married At Her Mansion In Thousand Oaks, California:
According to US Weekly, the love story between Britney Spears and Sam Asghari began in 2016 during the recording of one of the singer's singles. Asghari is one of the principal dancers in 'Slumber Party.' Although how they began their romance is unknown, they were caught visiting various restaurants and even public events such as the 2017 Grammy pre-gala.
Apart from sharing several photos on their social networks, Britney Spears and her current husband began sharing their exercise routines in May 2018. The couple's relationship accorded with the moment Spears managed to get rid of her father's custody in September 2021. On several occasions, Sam supported his wife with shirts that said "Free Britney."
In June 2022, they married in a ceremony attended by celebrities such as Paris Hilton, Madonna, Donatella Versace, Drew Barrymore and even Selena Gomez.
Is Love Over?
This August 16, the separation of the singer Britney Spears and the dancer Sam Asghari was reported. On June 9 of last year, Britney Spears married Sam Asghari after being engaged in 2021, after the controversy between the interpreter of 'Toxic' and her father over a guardianship that lasted approximately 13 years. However, the couple is estranged and could be on the verge of divorcing.
Fans Immerse As Britney Spears Is In Pain And Shocked: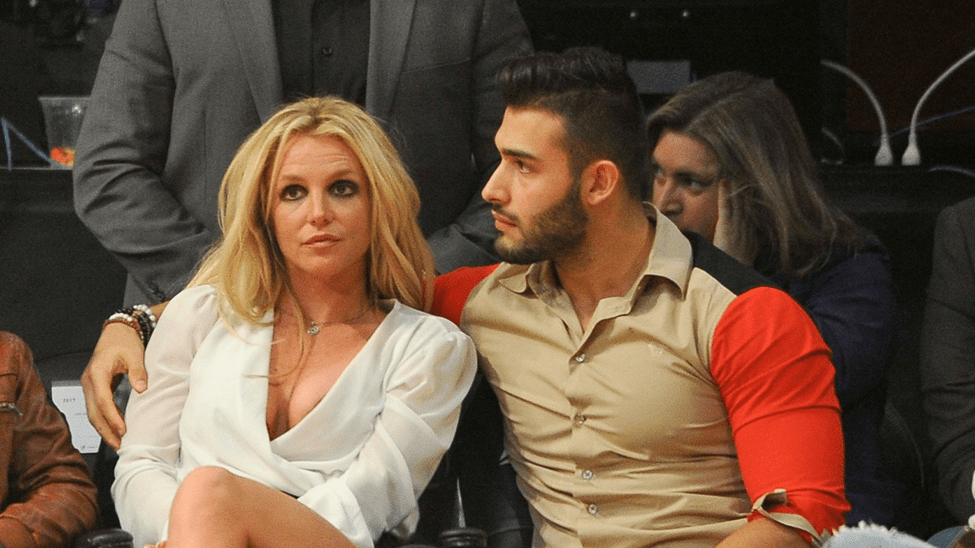 After speaking with a source close to celebrities, a couple of weeks ago, Sam Asghari confronted Britney Spears, so they had a fight that resulted in the dancer moving into a house alone. So far, neither of the two celebrities has spoken about it. It is known that Britney Spears has a prenuptial agreement that protects her fortune in the event of a divorce from a dancer of Iranian descent.
We hear that Britney Spears's divorce isn't any arbitrary Hollywood chime, yet it's anonymous what the couple is stirring up!
Stay tuned for more hot and happening Entertainment news!Click here