What is United Airlines?
United Airlines, based in Chicago Illinois, is one of the major Airlines in America serving numerous locations in North America, South America, Europe, Asia, Africa, and Oceania. It has a significant network of domestic and international flights and is considered one of the most popular airlines in the world. One of the biggest international airline alliances in the world, the Star Alliance, was founded with United Airlines as a founding member. In addition to providing a variety of services linked to aviation, United Airlines also provides passenger and cargo transportation. The airline runs a fleet of several types of aircraft to meet a range of travel requirements, from short-haul regional flights to long-haul international flights, too. Along with that, MileagePlus, a frequent flier program offered by United Airlines, enables customers to accrue miles for travel and exchange them for benefits including free flights, room upgrades, and other advantages associated with travel. United Airlines' First-class seating is another prominent aspect of the airline itself, with many people opting for it during their flights. Throughout its history, United has undergone numerous mergers, acquisitions, and modifications, making it into the thriving airline it is today.
Inclusions In United Airlines' First-Class Seating
Depending on the kind of aircraft, the route, and the length of the journey, United Airlines' First Class may offer different services and facilities. However, compared to Economy Class, United Airlines' First Class offers passengers a greater degree of convenience and service. The First Class experience begins even before you board the plane as passengers have exclusive access to United Airlines First Class lounges.
United Airlines First Class Airport lounges are typically available to first class travellers, allowing them to unwind before their trip, indulge in complimentary snacks and beverages, and take advantage of additional services. A significant example is that First-Classpassengers get immediate access to priority boarding. Priority boarding, which allows first class passengers to board the aircraft ahead of other passengers, helps with saving time and improving the boarding process in an efficient manner. Priority Baggage Handling is an additional benefit that United Airlines promises when you spend an extra dollar on them, in addition to the Priority Boarding option.
Priority baggage handling on United Airlines frequently means that United Airlines' First-Class passengers' checked luggage is some of the initial items to be discharged once the flight is at its destination, cutting down on tedious, aggravating waiting periods when it comes to baggage claim. United Airlines' First-Class seating is another noteworthy aspect, with passengers finding it to be incredibly roomy. The seats often offer more legroom, additional recline, and more space to unwind than those in Economy Class. United Airlines First Class guarantees that you will be entertained during your lengthy flight with their in-flight entertainment systems.
The in-flight entertainment options available to United Airlines First Class passengers are frequently more extensive and may feature bigger displays, a wider selection of films, TV series, music, and even noise-cancelling headphones. While keeping your mind busy is essential during long flights, it's the truth that keeping your stomach busy is equally crucial. The ultimate path to luxury is through your stomach, and United Airlines is well aware of this.
United Airlines First Class guests receive improved food selections based on flight length and time of day. Gourmet meals created by renowned chefs, a selection of drinks, including alcoholic and non-alcoholic beverages, and attentive service are amongst a few instances. On some lengthier flights, United Airlines First Class customers may even receive branded amenity packages, which often contain shampoos, eye masks, socks, and other comfort items. Oh, you thought once you arrived at your destination, United Airlinesforgot all about you? Think again, because travellers frequently accumulate greater amounts of flier miles or points for their flights, which helps them reach elite status in the airline's loyalty program.
Is United Airlines First Class Worth It?
First and foremost, United Airlines First Class is only offered on domestic or international flights, and it costs around $550-$950 each ticket. The value of United Airlines' First Class depends on a number of variables, including your personal preferences, your travel requirements, your financial situation, and the particular route you're contemplating. Aspects of travel that you genuinely value should be taken into account when determining whether First Class is actually worth the additional expense for you. This might involve receiving priority services, having comfort and space, enjoying meals at such altitudes, having access to in-flight entertainment, receiving luxurious amenities, and generally having a bougie experience.
If you personally align with these various aspects of travel and don't mind letting loose when it comes to the expenditure of money during travel, then First Class is the way to go. On the other hand, you might discover that the cost difference between First Class and Economy Class isn't appropriate for your needs if you're on a limited budget, have a short flight, or don't value the added perks. In the end, determining the "worth" of United Airlines First Class depends on your personal priorities when it comes to traveling. First Class may be a wise choice if the extra comfort, amenities, and benefits suit your needs and price range. Before making a choice, it is advised to thoroughly evaluate the unique choices for your journey and take into account how they fit with your travel priorities.
To Conclude On United Airlines First Class: It's crucial to remember that these offerings may change based on the precise route, aircraft, and other elements. Like many other airlines, United Airlines may offer several First-Class options for various trips, and at the end of the day, it depends on flight to flight, person to person. Ask people you know and trust that have opted for United Airlines First Class, read online reviews, and research non-sponsored posts regarding First Class to reach a conclusion for yourself. It's advised to research the specific amenities and services provided for your particular aircraft if you're thinking of flying United Airlines' First Class, so you know exactly what to anticipate.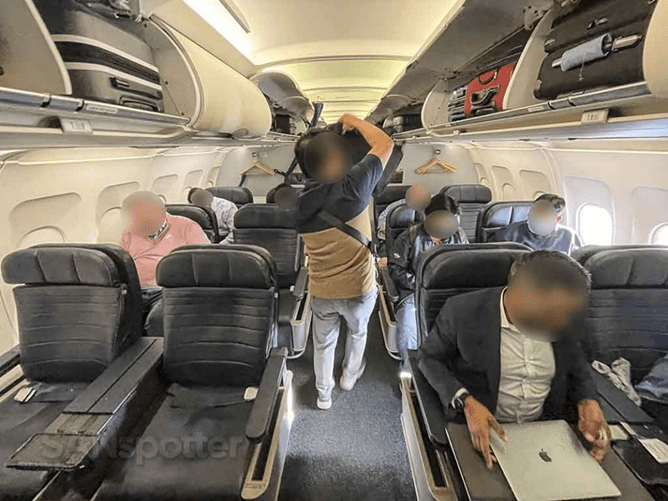 Take a look at our general news for more! Click here!