Have you thought about or do you know howto buy Tesla Stock on eToro? The stock market always seems to be divided when the issue of Tesla stock is discussed, with avid investors weighing in on both sides of the case. However, we can't ignore one thing: Elon Musk, Tesla's outspoken CEO, has turned the company from an almost impossible vision to becoming the world's leading maker of electric vehicles. The significant beneficiary of this success is the shares of Tesla and its investors.
An example of this is its trajectory in 2021. Despite falling more than 20% from its 52-week high in January 2021, Tesla has gained more than 340% in the last 12 months. This sustained run has made Tesla, once considered a cheap stock, seem even more expensive.
So, Can You Buy Tesla Stock on eToro?
Tesla shares can be traded through the online platform eToro, so if you want to know more about investing in this electric vehicle maker.
Sign Up To Buy Tesla Stock on eToro!
77% of retail investor accounts lose money when trading CFDs with this provider. It would help to reflect on whether you can afford to take the high risk of losing your money.
Tesla History
Tesla Motors was founded on July 1, 2003, in San Carlos, California, by Martin Eberhard and Marc Tarpenning. Ian Wright joined a few months later, becoming the company's third employee. In January 2004, they sought venture capital funding and contacted Elon Musk, who put up $6.5 million for the first round of investment in February 2004. Musk soon became chairman of the board of directors.
As Musk stated, Tesla's central vision is to make affordable electric vehicles that appeal to the mass market. Tesla's strategy began with developing high-end sports cars aimed at early adopters before moving to general-purpose vehicles.
Tesla Logo
In September 2017, Tesla reached a milestone after listing its 250,000th unit for sale, and in February 2018, it built its 300,000th vehicle. Tesla's global sales exceeded 500,000 units in December 2018. In 2019, sales of Tesla vehicles increased by 50%, from 245,240 units to 367,849 units 2019. The company built its 1,000,000th electric car on September 9. March 2020.
What Is The Tesla Stock Symbol?
Before you buy Tesla Stock on eToro, know thatTesla's stock symbol is TSLA. It is traded as a component of the Nasdaq 100, a part of the S&P 100, and a component of the S&P 500. You use This symbol to find the company's trading page with a brokerage firm's platform and place buy and sell orders.
Tesla Price History
Tesla Motors filed Form S-1 with the US Securities and Exchange Commission on January 29, 2010, indicating its intention to file an initial public offering (IPO) underwritten by Goldman Sachs, J.P. Morgan, Morgan Stanley and Deutsche Bank Securities. Tesla Motors launched its IPO on the NASDAQ on June 29, 2010, selling 13,300,000 common shares for $17 per share and raising $226 million.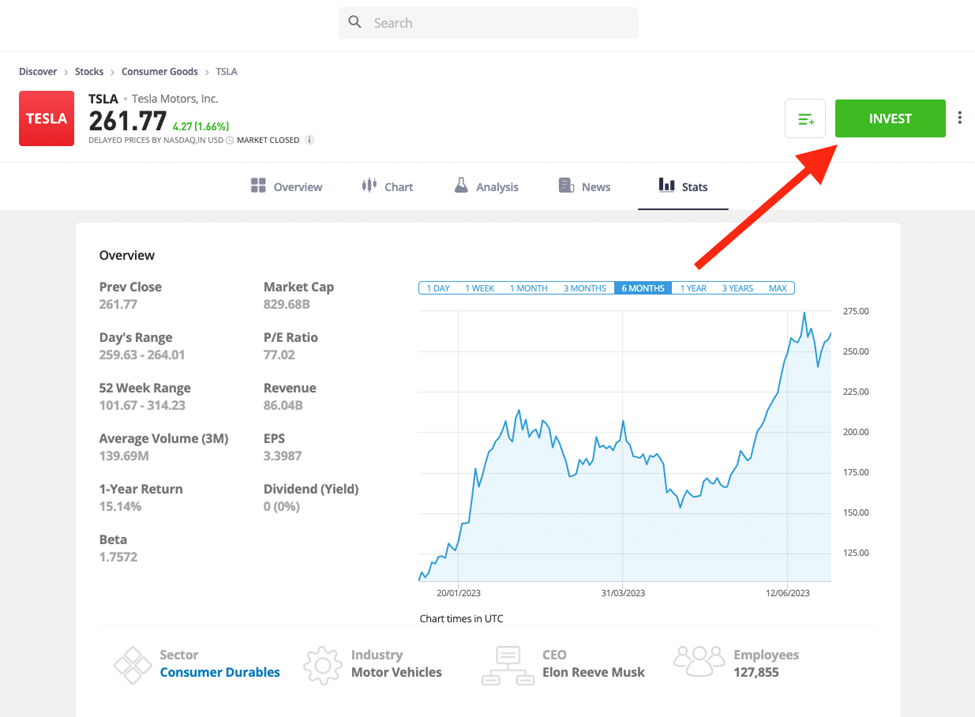 Since then, Tesla has seen its stock value soar regularly, achieving the most significant jump since 2019. During the third quarter of 2021, Tesla earned the most significant dollar gain in its market capitalization in the annals of income variable. In that short period, Tesla's shares soared after it reported solid earnings for the quarter on October 20. Two days later, its market capitalization surpassed $1 trillion.
Tesla Stock Split 5-1
To buy Tesla Stock on eToro, you should knowTesla's shares have already been split once, when the company imposed a 5-for-1 stock split on August 28, 2020. This means that instead of having one share, shareholders will now have 5. The company has already increased its stake to accommodate a stock increase in the past.
Tesla Stock After Hours
To buy Tesla Stock on eToro, find outTesla's after-hours price showing its last consolidated sale, after-hours volume, after-hours high, and after-hours low. It also displays a separate chart detailing the after-hours price and book at the corresponding after-hours.
Remember that investors can trade during the pre-market hours of 4:00 – 9:30 am ET and the after-market hours of 4:00 – 8:00 pm ET.
Buy Tesla Stock on eToro: Tesla Stock Trading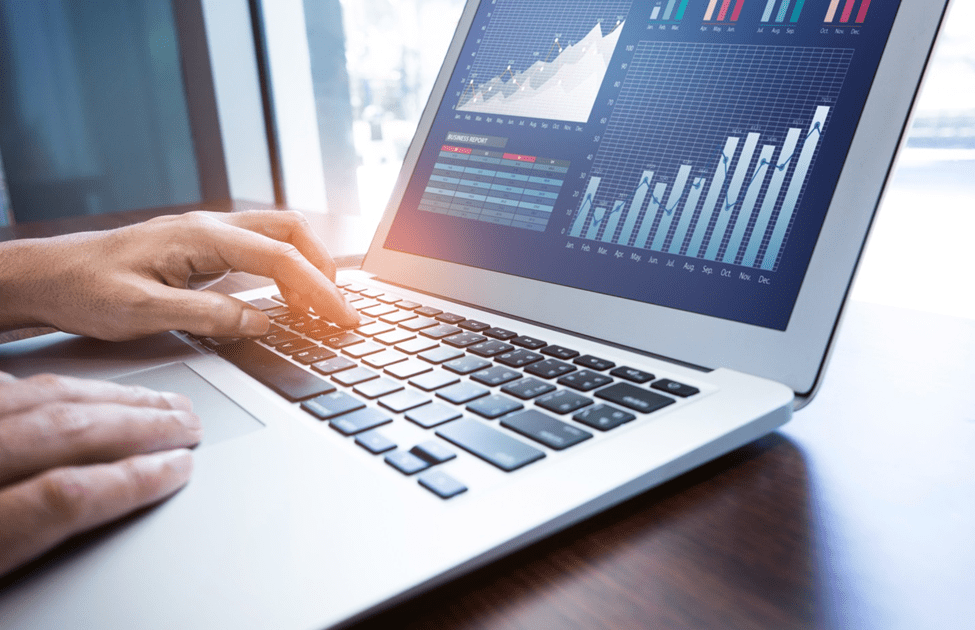 eToro platforms feature a built-in charting tool to see how Tesla shares perform on the market.
eToro platforms feature a built-in charting tool to see how Tesla shares perform on the market. And if you want to perform a more detailed graphical analysis, you can use the advanced ProChart feature.
Tesla Stock Chart On Etoro's Platform
If you look at the charts of Tesla's stock performance over the past 12 months and over the past decade, investors will describe Tesla's stock as "on fire."
Tesla Stock News
For stock market enthusiasts who follow Elon Musk's fortune every closing day, you can follow Tesla's evolution by reading the latest news about this electric car company. In addition, you can also use eToro's social trading network to buy Tesla Stock on eToro keep up with the latest happenings through the Tesla trading page and follow the major TSLA traders on the platform.
Why Are Tesla Shares Down?
Elon Musk's sale of more than 640,000 Tesla shares in one day is believed to be the leading cause of Tesla's stock price drop in November 2021. The price drop is expected because Musk is expected to sell another $20 billion of Tesla stock to finish offloading its 10% stake to keep only a 90% stake in Tesla.
Tesla Stock Forecast
With Tesla still a growth story, carriers will ignore its high valuation as long as the company can sustain its growth. Note that the RSI is highly overbought, so a pullback is likely, but there are still plenty of bullish prospects for Tesla, especially after receiving a massive order for 100,000 electric cars from Hertz.
The eToro trading page for Tesla has a Research tab where you can get an overview of the forecasts based on the consensus of market analysts. You will also be able to view various details about the recent activities of classified TSLA stock traders and their opinions. You will also see the target price based on the valuations of 25 ranked analysts over the last three months.
Are you ready to trade Tesla stock?
eToro is a multi-asset platform that allows investing in shares and crypto assets and trading CFDs.
So now you know how to buy Tesla Stock on eToro.
Take a look at our general news for more! Click here!