Watermelon punch is a fan-favourite drink in the summertime as we all know. When it's hot outside and you're looking for a refreshing drink, one of the best things you can have for yourself is a cold, tangy drink of watermelon punch to combat the heat. Watermelon itself is quite a refreshing fruit, so adding that sweet, delicious juicy fruit into an icy cold drink is one of the best ideas mankind has come up with. People like to have it at picnics and parties.
A watermelon punch recipe consists of you basically mixing fresh watermelon with other things. Those things may be water, sugar, or something sweet, and sometimes citrus juices like lime or lemon to make it taste even better. Some recipes even use sparkling water or alcohol like rum or vodka to make it fancy and into a cocktail. Watermelon punch is also known for its bright pink or red color and its fruity and refreshing flavor. It's a great way to stay hydrated on hot days. People often add pretty things like mint leaves, watermelon slices, or pieces of citrus fruit to make it look nice and taste even better. People of all ages go crazy over watermelon punch, and rightfully so!
A Basic Watermelon Punch recipe
There are many different types of watermelon punch recipes on the internet. And trust me, every single watermelon punch recipe is just as delicious as the other. But here we have the easiest, most simple watermelon punch recipe for you. For our watermelon punch recipe, you'll need some preferably fresh watermelon. Make sure it's a super sweet and juicy one for the best results. After you've chosen the perfect watermelon, cut it into small pieces and add it to a blender to make it into a smooth, even, fruity base. Start adding water bit by bit to lessen the thickness of the liquid and turn it into a juice. Add as much water as you like until you have the perfect consistency of the drink for you. If you add more water, it'll be thinner and more watery.
 If you personally like a thicker juice, you could add less water. That would dilute the flavor of the watermelon less, too. You can even make it sweeter by adding honey, sugar, or some kind of sweetener. That being said, I'd suggest honey over anything else! It gives a perfect sweetness to the drink in comparison to it tasting like artificial flavoring. To make it even more flavorful, it would be best to squeeze in some lemon or lime juice, or any other kind of citrus juice to make it a bit more sour. This adds a tangy flavor that balances the sweetness and turns it into a drink that anyone would crave on a scorching hot, summer day. Stir it all together, and your basic watermelon punch recipe has turned into a delicious drink! Get even more creative too by adding some sparkling water or soda for some bubbles and fizziness! It's a colorful, fruity drink that's perfect for hot days where you need some refreshment. You can make it look fancy by garnishing it with mint leaves or more watermelon slices on top to make it look pretty. As you can tell, this basic watermelon punch recipe is super easy to make! Plus, the end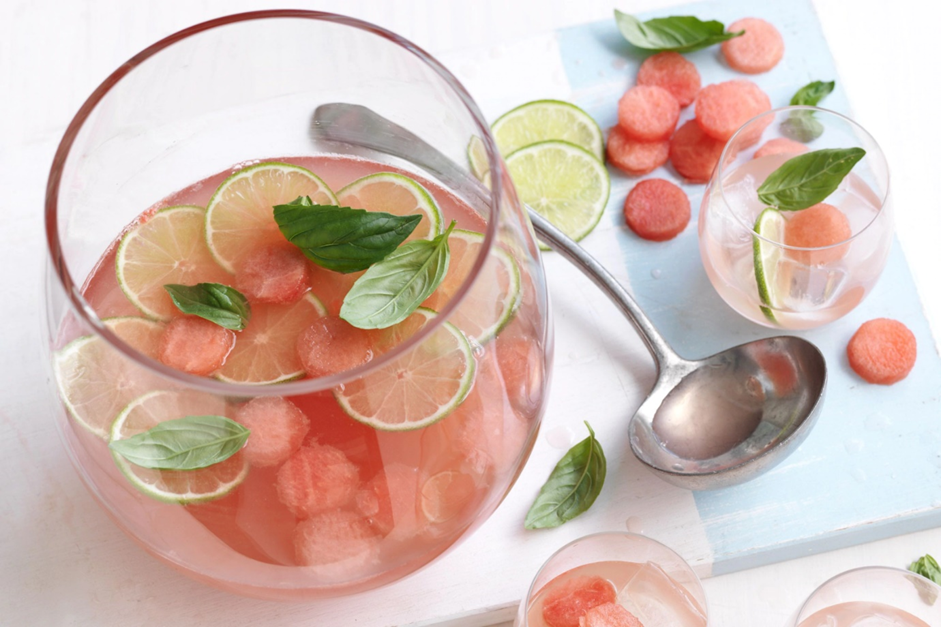 Watermelon Punch Recipe: Korean Watermelon Punch Ingredients
While the watermelon punch recipe provided above is absolutely perfect for any time you want some watermelon punch, there's another viral watermelon punch recipe! It's a Korean watermelon punch recipe. Korean watermelon punch, known as "Subak Soju" or "Watermelon Soju," is a popular and refreshing drink in Korea that's now making rounds on the internet.
Here we've collected all the Korean Watermelon punch ingredients for you!
To make it, you'll need fresh and sweet watermelon, soju, which is a Korean alcoholic drink, however this is optional. Korean Watermelon punch ingredients also consist of sugar, and sometimes sparkling water or soda. To make the drink, start by cutting a hole in the top of a large watermelon and scooping out the actual watermelon inside to make a bowl out of the rind. Then, blend the watermelon flesh to create a smooth puree. In a separate bowl, mix the watermelon puree with soju and sugar, adjusting the sweetness to your liking. Some recipes also add sparkling water or soda to give it a fizzy touch. Pour the mixture back into the watermelon rind bowl you made before, add ice cubes, and then serve! It's a delightful and cooling drink, perfect for enjoying with friends on a warm day or during gatherings in Korea. Now that you have all the Korean Watermelon Punch ingredients and the recipe as well, you should definitely go make some to satisfy those taste buds!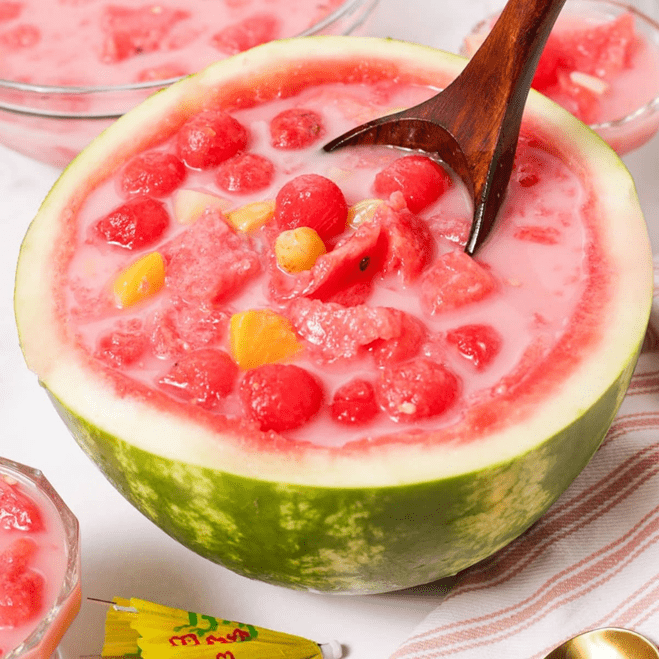 Take a look at our lifestyle news! Click here.