It's time to break silence! Back in 2020, Malik joyfully shared the news of his daughter's birth with his former partner, the renowned model Gigi Hadid. Malik and Hadid, however, went their separate ways in 2021 following a reported family conflict involving Malik and Hadid's mother, Yolanda. During this period, Hadid's mother accused Malik of forcefully grabbing and pushing her, resulting in emotional distress and physical discomfort. While he denied these allegations, Malik faced legal consequences and was placed on probation.
Since then, Zayn has remained single, until recent rumors arose of his igniting romance with Selena Gomez. Although it remained unaddressed throughout the interview, in recent months, rumors and speculation have swirled around the potential romantic connection between two beloved pop icons, Selena Gomez and Zayn Malik. The dating rumors gained traction and captured the attention of fans and media alike, igniting a wave of curiosity and excitement. Both Gomez and Malik have had highly publicized relationships in the past, fueling further intrigue. However, it's important to note that neither Gomez nor Malik have officially confirmed any romantic involvement between them.
Adding fuel to the fire, both Gomez and Malik made headlines when they unfollowed each other on Instagram, leaving fans wondering about the true nature of their relationship. Furthermore, Malik shared an image on social media featuring himself with a blonde-haired woman in his recent music video, leading to further speculation that the woman could be Selena Gomez. While no confirmation has been made, fans are hopeful that these rumors hold some truth. In addition to the potential romance, fans are excited about the possibility of a collaboration between these two highly talented pop stars, eagerly anticipating the combination of their musical prowess. As fans eagerly await more information, they continue to support Gomez and Malik in their personal lives and professional endeavors.
Zayn Malik Breaks Silence: From Band Breakaway to Candid Confessions on 'Call Her Daddy:
In an unexpected collaboration, pop sensation Zayn Malik has teamed up with the renowned podcast "Call Her Daddy." In a teaser video, host Alex Cooper inquired about various aspects of Malik's life, including his career, fatherhood, and experiences following his departure from the immensely popular boy band One Direction. The announcement had sent shockwaves through the entertainment world, as fans eagerly anticipated a fresh and unfiltered perspective from the former One Direction star. Zayn Malik's collaboration with "Call Her Daddy" represents a significant departure from his usual public persona. Known for his enigmatic presence, Zayn's partnership with the podcast promised to peel back the layers, allowing fans to see a more authentic and unfiltered side of the pop star. With "Call Her Daddy's" commitment to raw conversations, Zayn Malik's participation undoubtedly provides a fresh perspective on his personal journey, struggles, and triumphs. Let's delve into the details and explore the exciting new era of unfiltered conversations with Zayn Malik on "Call Her Daddy."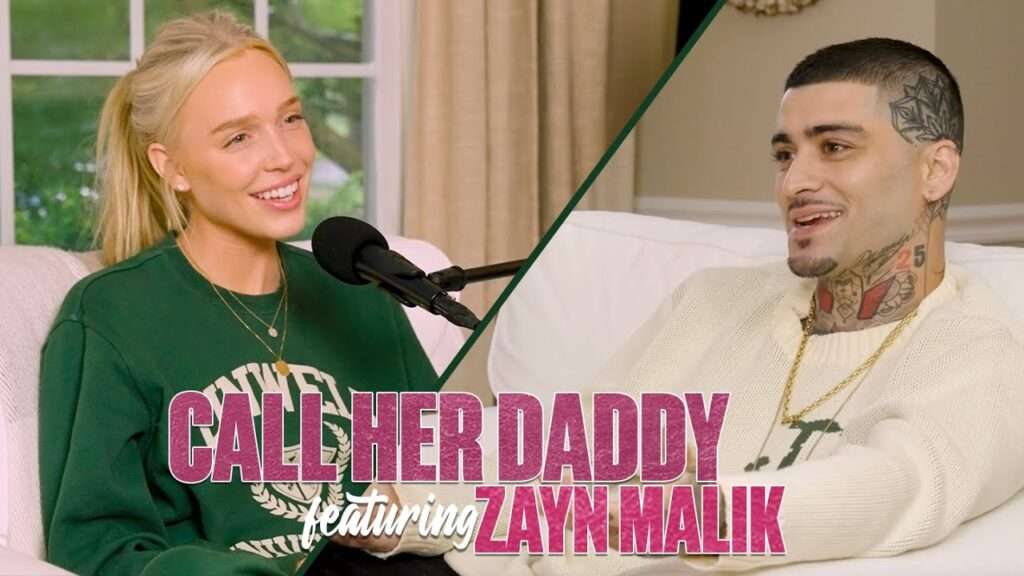 Unveiling the Unseen: Zayn's Untold Stories and Perspectives:
Fans have long hungered for a deeper understanding of Zayn Malik's experiences and thoughts. In 2020, Malik joyfully shared the news of his daughter's birth with his former partner, the renowned model Gigi Hadid. However, their relationship came to an end in 2021, following Malik's plea of no contest to four counts of harassment against Hadid and her mother, Yolanda Hadid. When asked about his motivation to step back into the public spotlight, the singer of the hit track "Dusk Till Dawn" attributed a significant role to his 2-year-old daughter, Khai. He stated that ever since he became a father, his primary focus has been to set a positive example for his daughter.
From Boy Band to Solo: Zayn Sheds Light on His Journey Beyond One Direction:
After contributing to the success of four chart-topping albums with One Direction, Malik made the decision to part ways with the group in 2015. In a heartfelt statement addressing his departure, he expressed his desire for a more ordinary life, stating that he yearns to experience the life of a typical 22-year-old, where he can unwind and cherish moments of privacy away from the constant spotlight. Reflecting on his time in the band, Malik expressed a desire to step back from the overwhelming level of exposure they experienced. This led him to abstain from interviews for the past six years, opting to focus on other aspects of his life and career instead. Malik's appearance on "Call Her Daddy" marks a significant milestone in his journey, allowing fans and listeners to gain fresh insights into his life and perspectives.
In the interview, Malik openly addressed his departure from the band and the defining moment when he recognized it was time for him to chart a different path. Speaking to Cooper, he revealed that he had a sense of it for some time, although he chose not to delve into intricate details. However, he did acknowledge the presence of complex dynamics and contractual negotiations, with specific individuals involved in certain actions, and a reluctance from some to commit. These factors collectively alerted him to the unfolding situation, prompting his realization that change was necessary.
Interestingly, Malik admitted that he opted not to inform his own mother about his decision to leave the band. Instead, he simply called her to let her know he was coming back home, casually inquiring if his old bed was still vacant. He emphasized that he wasn't overly preoccupied with the opinions of others, as it is intrinsic to his character. Malik consciously chose to block out external judgments, as he firmly believes that his self-identity should not be dictated by the perceptions of others. Malik expressed his weariness towards the expectations and dynamics that accompanied being a member of a pop group. He recounted that they would often suggest he could be the enigmatic figure. However, Malik recognized that this characterization didn't truly resonate with his authentic self, as he describes himself as someone who is more easygoing. While acknowledging that others may thrive with high-energy personalities, Malik embraced his natural inclination for a calm and serene approach to life.
Zayn Malik Unveils His Highly Anticipated Comeback: A New Era of Music Begins:
The talented and enigmatic pop star is generating waves of excitement among fans as he gears up for the release of his highly anticipated new single, "Love Like This." After a brief hiatus from the music scene, Malik is ready to captivate listeners once again with his signature style and mesmerizing vocals. The anticipation surrounding his upcoming single has been building for weeks, and fans are eagerly waiting the moment they can immerse themselves in his music once more. Malik has always been known for his ability to effortlessly blend genres and push the boundaries of pop music. His distinctive sound infused with soulful R&B and captivating melodies, has garnered him a devoted global fanbase. With each release, Malik has showcased his artistic growth and maturity, continually surprising and delighting audiences.
As the release date draws near, details about the new single remain shrouded in secrecy. However, one thing is certain: Malik's artistic evolution will be on full display. Fans can expect a fresh and innovative sound that pushes the envelope and demonstrates his growth as both a songwriter and performer. Malik's lyrics often reflect personal experiences, offering a glimpse into his emotional journey. This upcoming single promises to be no exception, with Malik using his platform to express his authentic self and connect with listeners on a profound level. Nevertheless, the Selena Gomez and Malik's dating rumors are still in the air!
Stay tuned for more Entertainment news !Click here