Tough day for fans, along with celebrity owners of Wrexham AFC after a dreadful loss against Chelsea, 5-0. Wrexham, notorious for not being on the winning end of games, can easily be considered as conclusively thrashed by the blues. Mauricio Pochettino was anointed as Chelsea's head coach for the 2023/2024 expresses excitement following the team's magnificent win.
Chealsea vs Wrexham: Success For The Blues Arises.
With Wrexham losing the ball at the halfway line, Chelsea came and conquered. Striker Nicolas Jackson made a run for it, and Ian Maatsen aiding in tastefully finishing off the efforts with a crowd-screamer. Maatsen, the 21-year-old left-back from Netherlands found himself on the right side of the beginning of the game. Having joined Chelsea in 2018 but continuing to spend time at Feyenoord's youth systems have undoubtedly assisted in the success he found himself a part of today. 1-0 the score was, just after a mere three minutes.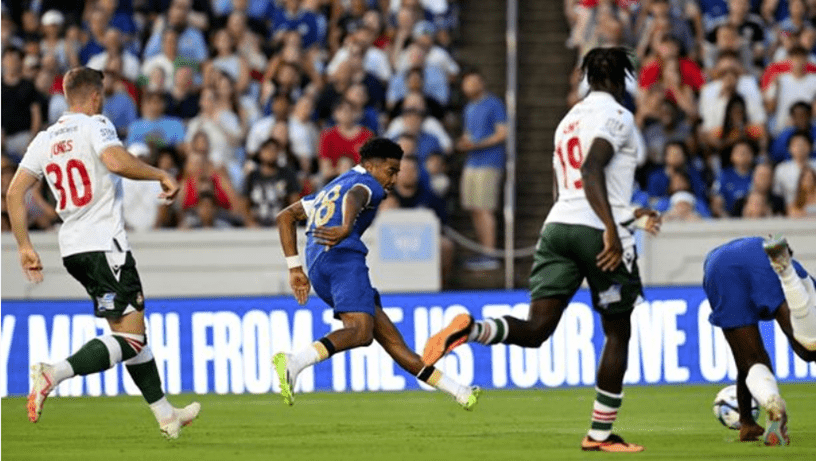 Too Good For Wrex-Defence
Wrexham had chances for itself to add to the score, but ultimately, Chelsea's defence was all too tactful for the counterattack. In fact, one of Wrexham's weaknesses was its own defence, disallowing an opportunity for them to clear the buildup seen continuously. The obvious conclusion would be the fact that Wrexham's defence is no match for the sheer aggression that is Chelsea's striking. This picture was beautifully painted to us by none other than, once again, Ian Maatsen, who for a second time finished it off with an increased score to his team's score. Successful coordination with none other than midfielder Carney Chukwumeka allowed Ian Maatsen to bring the 50,596 people in attendance at Kenan Stadium to its feet with a second goal for the blues.
Chealsea vs. Wrexham: Halftime Dramas
While at halftime, with Chelsea 2 and Wrexham zilch, a sight for sore eyes, head coach Mauricio Pochettino still found himself infuriated at the match referee's decision. Blowing the whistle, the match referee brought an end to the menacing counterattack of Chelsea at midfield.
As the second half began, various changes were seen being made to both sides, which came as no surprise to anyone. Chelsea drew in players including Christopher Nkunku, Raheem Sterling, Connor Gallagher, and Ben Chilwell, while Wrexham switched to Rob Lainton in place of Ben Foster as their goalkeeper. Even before these changes, Wrexham had the opportunity to add to their score, but were unsuccessful at every chance. The eventual changes to the side, however, weren't the light in the dark for them either. A pretty even-split game it had been when taking into account the chances both teams had to score, but it was still Chelsea's game of goals throughout.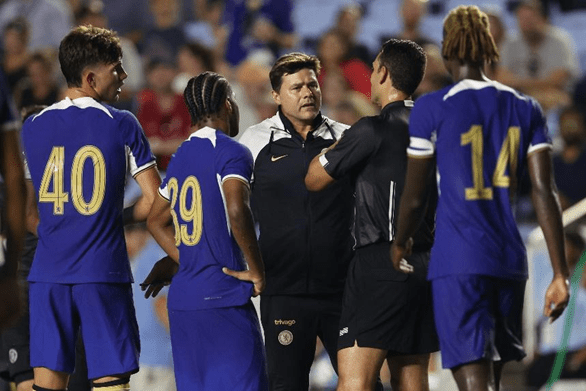 Lack Of Efficient Reaction Time Proved Costly
A third for none other than Chelsea yet again, with Raheem Sterling to thank for. A completely avoidable goal this one, if goalkeeper Rob Lainton was able to react in time to prevent the ball from going past him. Before being cut-off, Sterling was able to dribble across to the top of the penalty area, but eventually laid off to midfielder Connor Gallagher. With a feather like shot that no one expected anything of, the entire field was appalled when the ball actually made it into the goal as Lainton dove too late, unable to prevent the ball from reaching the dreaded destination. Frustrating scenes for Wrexham at this point with Ryan Reynolds probably ripping his hair out somewhere as the 81st minute goes in favor of Chelsea.
Not Just Pochettino With The Ideal First Game!
The 5-0 win against Ryan Reynolds' Wrexham was aided undoubtedly by Chelsea debutant Christopher Nkunku. The Frenchman was one of many goal scorers, having added to the score at the 90th minute of the game, but just the first few minutes of his. Barely having control of the ball in the second half, Christopher Nkunku found himself one of the main players of the day with a perfect through-ball by midfielder Cesare Casadei, eventually leading to Nkunku sending the ball off in favor of his team, increasing Chelsea's score to 4-0. Rob Lainton put all his effort into halting the ball, especially after that alarming allowance of a goal before, but was still unsuccessful. While he got in contact with the ball which slightly aided in the stopping of the goal, Nkunku came back with the force of a thousand suns. The fourth score for his team, Nkunku scored after belting a shot into the wide-open net with Lainton unable to do anything about it.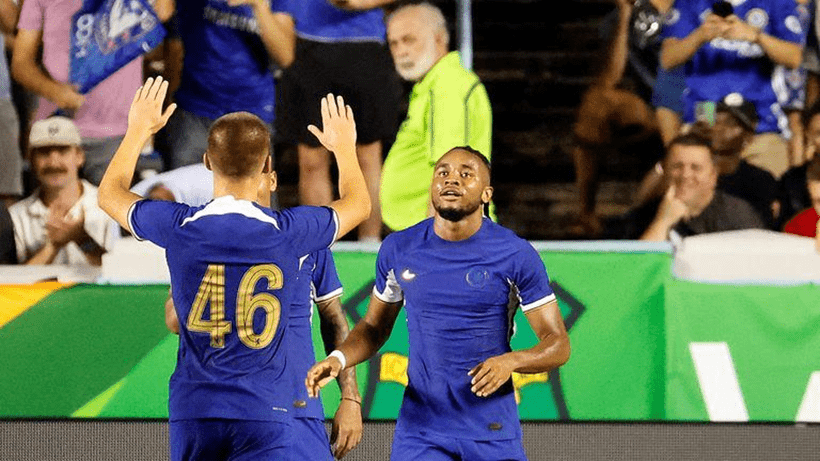 While the game still had a few minutes left to it, the outcome itself was done and dusted. All 50,596 in person viewers and those watching at home knew Chelsea were to win 4-0, until they decided to kick the team that were already down with another one of their stunners. At practically the last kick of the game, the blues were able to pour salt on Wrexham's open wounds once more with a fifth goal added to the heartbreaking score of zero for Ryan Reynolds' team. Thanks to Ben Chilwell's final efforts, Chelsea was able to conclude the game with a 5-0 win over Wrexham, in what was considered a 'friendly-match' between them.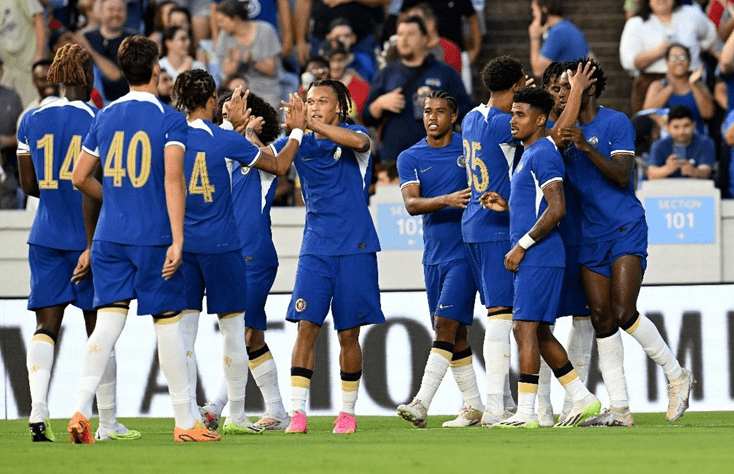 What's Next For Wrexham?
Wrexham were subdued to facing a harsh end to the game even though a commendable effort was put up by them. The difficult truth was that Chelsea was the better team and were at the time all too good for them, and all Wrexham could do was get front row seats to the loss. Chelsea themselves are to be applauded immensely for a one-sided game that was possible simply due to their staggering efforts. Maatsen, Gallagher, Nkunku, and Chiswell are all to be admired for the triumph they played a monumental part in. Brighter days are due for Wrexham as quality players are not lost to them. Exposure to teams such victorious as Chelsea will only better Wrexham's game, and there are no doubts that wins will be under their belt in no time. That being said, this Chealsea vs. Wrexham game will be one for the ages.
Take a look at our Sports News for more! Click here!